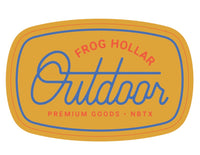 Frog Hollar Outdoor supports getting outside and spending time with family and friends!
Whether it's hunting, fishing, spending time on the lake, or relaxing with family. We know that a good dose of fresh air clears away the chatter of this busy life, and we hope Frog Hollar Outdoor will invite you to experience that refreshment, too.
Our website features products from our Frog Hollar Outdoor brand. In-store, we carry a wider variety of products that will satisfy all of your outdoor activity needs!
Location
Our store
1273 N Academy Ave, Suite 1101 New Braunfels, TX 78130
Closed Monday
Tuesday to Saturday, 10am - 6pm
Sunday, 11am - 4pm